Product Demo Day
USBO hosts product demo days with retailers and manufacturers such as Badminton Alley, Yonex, Victor, Wilson, Carlton, and Ashaway to help badminton players find rackets that suit their game. During the product demo day, players who has meet the organization's requirement can try numerous model of rackets to see how they feel and perform. Please bring your own shuttlecocks during the event.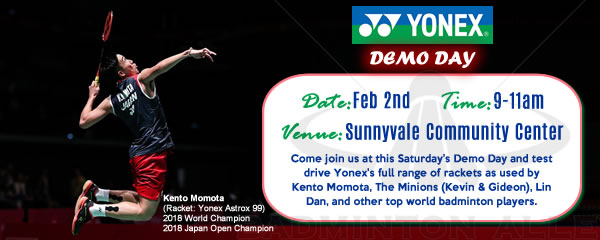 Looking for a Yonex racket & not sure which one to buy?
Join us on September 22nd for Yonex Demo Day

During the event, you can try ANY of current carbon graphite Yonex rackets. Yes.... Yonex will bring all their current & NEW performance badminton rackets for players to test so that the RIGHT decision can be made.

No More Guessing. Just A Lot More Trying.
---
Scheduled Demo Day

September 22 (Saturday): Yonex Demo Day
Time:
09:00am - 10:30am ( Demo Event )
10:30am - 11:00am ( Yonex Steep Attack Challenge )
Location:
Sunnyvale Community Center.
Indoor Sports Center Gymnasium
550 E. Remington Dr.
Sunnyvale, CA 94087
---
NOTE:
- Photo ID REQUIRED for testing the racket. ( Driver License or High School ID )
- Signed Waivers of Liability is REQUIRED to participate in the event.
- Players under the age of 18 must have parent/guardian signature also on the waiver.

Download & Print Waiver of Liability